I love my plant-based diet, the Blue Zones plan I've been on since August 2017. It's allowed me to drop some weight, reverse my high cholesterol, lower my blood pressure and has given me great skin. The Blue Zones plan allows for occasional meats, cheese, seafood, eggs and even "anything you want" once in a while, but I have been eating 99.9% plants because it seems better than going back and forth. I've figured out ways to enjoy delicious plant-based food for 21 meals a week for several months. By eliminating animal foods, I've managed to cook things I've never tried, including several Indian lentil dishes, Costa Rican bean dishes, and Sardinian food. My taste buds have adapted and I look forward to crunchy greens and raw vegetables in a way I never did before. I quit eating eggs and discovered cereals and oatmeals, smoothies and fruit made me feel so great in the morning.
Trip to New Orleans
This trip to New Orleans is a big challenge for me. Previous trips have been food-focused, including lots of oysters, fish, heavy Willa Jean breakfasts, meals at Cochon, Brennan's, August, Luke, GW Finn's, Revolution, Acme, NOLA, Emeril's, Mother's, Jacques-Imo's, Johnny Sanchez, K-Paul's, Surrey's and muffulettas at Central Grocery. A trip or two to Cafe Du Monde or Cafe Beignet usually happened. For this trip, my husband's annual Birthday trip to New Orleans, I was a bit concerned. I certainly didn't want to revert back to my old habits and come back with my all the weight I've worked hard to lose, but at the same time I want to enjoy eating. I was surprised to find a lengthy article called "New Orleans in Green", with pages of reviews. I couldn't believe how many new places have popped up just in the last couple years. This is going to be a lot easier than I thought!
Day 1:
Lunch at Carmo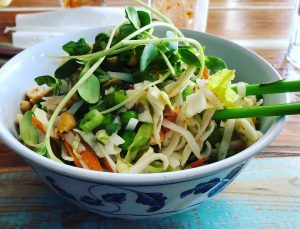 A few blocks from the Omni Riverfront, where we got a great deal on a room. Carmo is immediately welcoming and charming with its bright blue and orange walls, art work and big windows. There were chalkboard specials of the day posted and a pile of menus to look at while waiting in line. I ordered the special soup of the day, Vietnamese Rice Porridge, with cilantro, peppers, ginger, mint, green onions and vegan "chicken" along with a half order of Broken Noodle Salad, rice noodles, bean sprouts, cabbage, tofu, cucumber, peas, carrots, mushrooms, scallions, cilantro and peanuts tossed with citrus ginger chili vinaigrette on romaine. My husband, Steve, ordered a Banquette Bread, a crispy Armenian bread topped with harvarti cheese and scallions. My soup arrived first, steaming hot, and filled with crunchy bits of herbs and topped with fried shallots. This soup was so flavorful and bright. The Broken Noodle salad was also fresh, packed with a variety of vegetables in just the right amount of vinaigrette. Steve's Banquette Bread was like a crackery crusted pizza. He loved it. I'd definitely go back for a salad fix in the land of brown food.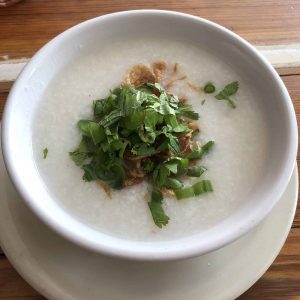 Dinner at Emeril's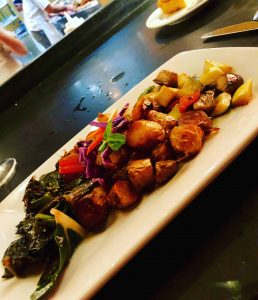 In my meat days I loved Emeril's. We always sat at the chef's kitchen bar and watched the chefs. This time we also sat at the bar and watched the hectic activity of the chefs preparing steaks, pork, fish, and chicken a few feet away from where we sat. I ordered salad and attempted to order a few vegetable sides such as greens, grilled vegetables and some fingerling potatoes I had seen on the menu. The server suggested a vegetable plate would be prepared instead, with a selection of vegetables from the kitchen, and proceeded to ask me, or interrogate me about why I was not eating dairy, meat, etc. I finally had to say, "It's really none on your business. Just bring me the vegetables." Steve ordered the special redfish on the halfshell, gumbo and a side of mashed potatoes. I sipped on my glass of Justin Cabernet and did not eat the assortment of bread and butter or the amuse bouche of tuna on a thin crostini and started to feel a little sorry for myself. My Emeril's salad minus the cheese arrived just in time. The pile of crisp greens and sun dried tomatoes dressed with a sharp balsamic vinaigrette was just what I needed to stuff into my mouth while watching Steve eat his fragrant gumbo. I was just a little bit curious about whether it tasted as good as it smelled. It did. His entree of redfish covered with shrimp, kale, and sauce arrived. It was steaming hot and covered his entire plate. Then comes my chef's vegetable plate, a smallish plate with a little serving of luke warm greens, a little serving of cold diced, grilled vegetables, with a serving of "pad thai patty", an inedible thing made of rubbery hard rice noodles that couldn't be cut with a knife. When the waiter asked if I liked my vegetable plate I told him it was disappointing. What was the deal with the rice noodle rock in the center? I would have been better off with the things I asked for in the beginning. So, he said he'd bring me some fingerling potatoes. Watching the chef in front of me pile steaming hot greens, sweet potatoes, Brussels sprouts and other vegetables on the meat plates made me wonder why they couldn't create a better vegetable plate for me. We finished the meal with a sorbet trio of grapefruit, lime, and pineapple sorbet. I have to admit I left thinking about the grilled meat.
Day 2:
Breakfast at Pulp and Grind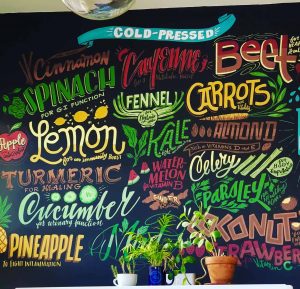 Steve, bless his heart, found our breakfast place for this morning after I mentioned a 3 mile walk to the Superfood Bar. He googled juice bars near me and found the Pulp and Grind. He even called ahead to see if they really had vegan baked goods, as mentioned in a Yelp review. The 20 minute walk in the 60 degree, sunny weather was a pleasure. Entering the Pulp and Grind I immediately felt at home. Under a huge wall mural of fresh fruits and vegetables was a case of freshly juiced, colorful concoctions. The glass case at the counter was filled with a variety of pastries, biscuits, and muffins and there on the top shelf were vegan chocolate chip walnut muffins and vegan lemon, pepita, poppy seed muffins. Chai tea with almond milk and a huge lemon muffin was just what I needed, with a carrot, apple, lemon, beet juice. While I was there the chef, who comes in early every day and makes their baked goods, brought out a pan of vegan Blueberry Baked oatmeal, which looked amazing. The guy at the counter told me their Power Muffins, with almond flour, flax, and nuts would be out soon. He said that was the most popular vegan item. Can you guess that I love this place? Steve had a regular blueberry muffin and a gigantic biscuit with egg and cheese, so he was also happy. We sat at the sunny counter by the window and were happily enjoying the start to our day when a group of three young women descended, talking in the loud, laughing, way people do at bars at 1 AM. We call them the "Loud Talkers", a phenomenon we have experienced countless times in recent years when fun reaches such a loud volume it ruins the experience of nearby diners. Fortunately we were ready to leave, which we did. Thank you Pulp and Grind. I will be back during this trip. I did not miss greasy fried beignets covered with sugar.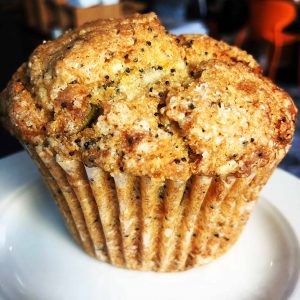 Lunch at Central Grocery
Have you ever heard of souvenir eating?  I succumbed to this notion that I had to have a muffuletta at Central Grocery, which I did.  It was good, don't get me wrong, but I was not as crazy about it as I used to me.  I said goodbye to it and decided to have a tofu poboy next time we visit NOLA.  I saw a photo of a great looking one at Green Goddess.
Dinner at Drago's in Metarie
Our new friends, Sheri and Raymond Doyle, whom we had never met before, but we have boxers in common, so they are instant friends, wanted us to experience the original Drago's, which is in Metarie, where they live.  The Cvitanovich family is still there after 50 years.  Mrs. Cvitanovich was at the hostess stand and was so friendly.   After a margarita,  I had grilled oysters, wine and lobster.  The Blue Zones philosophy I follow will not allow me to feel like a failure for eating any non-plant based food, which is what I love about the plan.  Out of 1,100 meals a year, a few meals of anything I want is not going to be the end of the world.  I am moving ahead and have an entire day of plant-based restaurants for tomorrow.
Day 3: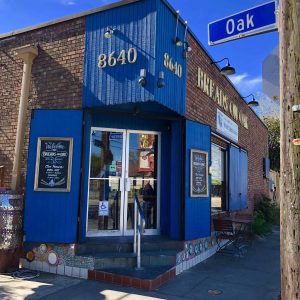 Breads on Oak
I woke up feeling the effects of all the rich food and wanted more than ever to continue on my plant-based lifestyle.  We ubered over to Breads on Oak, a highly rated organic bakery with numerous vegan options.  The bright, quirky corner building was easy to spot.  Walking up to the counter I was astounded at all the plant-based selections.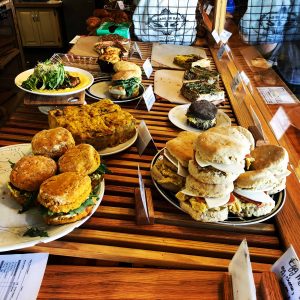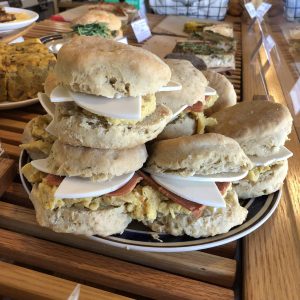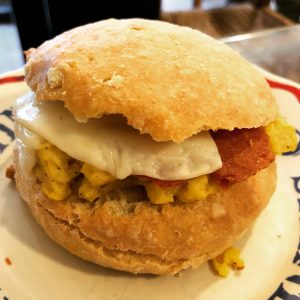 I chose the Vegan McMuffin, a biscuit with tofu scramble, vegan cheese and a vegan bacon.  I loved everything about this dish.  For later, I couldn't resist the healthy looking oatmeal cookie with cranberries, pepitas, and coconut.  Steve had no complaints about his conventional meaty Cruffin, Pan au chocolat, and coconut pineapple muffin.  We both had chai tea, relaxed in the beautiful space and enjoyed our breakfast.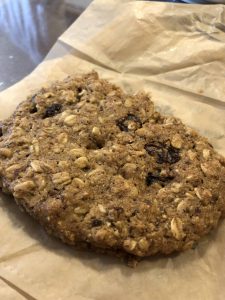 St. Roch Market
St. Roch Market is a food hall featuring a diverse lineup of food and beverage stalls.  It's a place for someone to grow a food brand and develop a following.  It's located at 2381 Claude Ave., a 15 minute drive from the French Quarter.  We toured the market to see the types of food and found everything from baked goods, Mexican food, and a few plant-based options as well.  The Daily Beet menu caught our eye, particularly the fresh sounding ingredients and the spring rolls.  Also, we could see piles of fresh fruit and vegetables in their kitchen.   We ordered the spring rolls.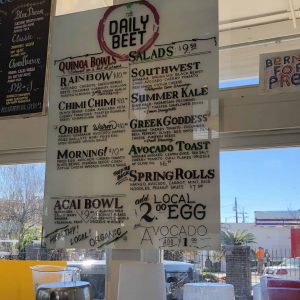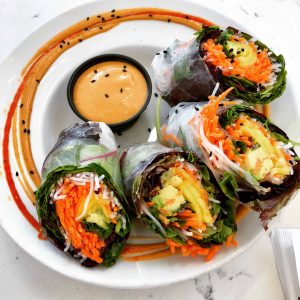 They were as good as they looked.  The addition of sliced pickled beets and lining of dark red leaf lettuce made the colors so vivid.  The spicy sauce and peanut sauce complimented the spring rolls and made every bite perfect.  While Steve was waiting for the spring rolls I went looking for more food to sample.  I asked every stall if they had any vegan dishes and most didn't.  I was directed to the T2 Street Food, a Vietnamese stall, where I was told there was "vegan pho".  This is why it's good to ask around and not just look at the menu board.  T2 Street Food had several options, including pho with vegan broth, vegetables and tofu.  Well, OK, that sounded great!  I received a steaming hot bowl of pho and carefully walked over to the other end of the building where Steve was waiting for me with the spring rolls.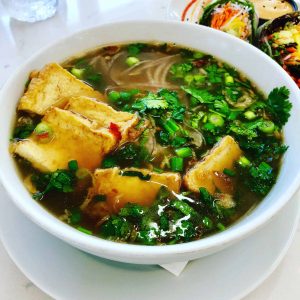 We both loved the pho.  I especially liked the fact that the broth was really, really hot.  I get so annoyed when I order soup and it's lukewarm.  We huddled together and slurped down that whole bowl of pho and consumed most of the spring rolls.  We still had more food touring to do or we would have tried some other dishes, like Vegan Bahn Mi.
Sneaky Pickle
I've seen many Instagram photos from Sneaky Pickle in my #vegannola notifications the past few weeks.  It is located about a mile from St. Roch Market.  We ubered over there, not being sure if walking on the busy street was a good idea.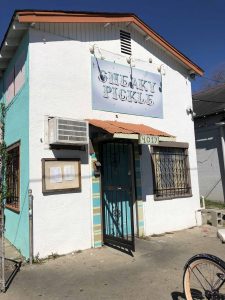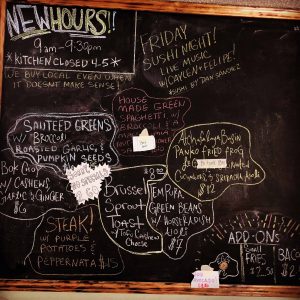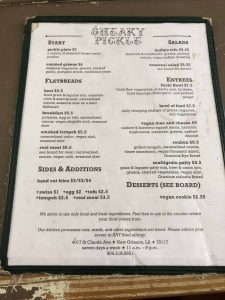 The Sneaky Pickle is an adorable building with seating inside and outside.  The outside patio was full of diners at the time.  There were chalkboard menus as well as a printed menu with so many choices we could hardly decide what to try, but I could tell I needed many more visits to try all the dishes that intrigued me.  I wanted the sauteed greens, breakfast flatbread with tofu, sushi bowl, vegan reuben, and the special kimchee bowl, with black eyed peas and butternut squash.  I ordered the Buffalo Tofu salad, a dish I recognized from IG.  It was fried tofu and fried cauliflower on top of greens, with pickled onions vegan buffalo dressing.  It was a bright salad, not only in looks but in taste.  The crunchy tofu and cauliflower had great seasoning and the acid from the pickled onions cut the richness of the fried morsels just right.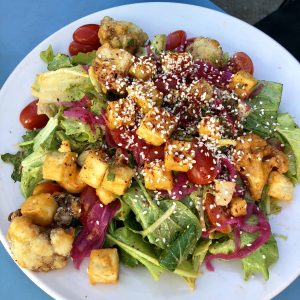 They obviously have some source for fresh greens because these were not spring mix from a box.  There were a variety of salad greens, everything from bitter little leaves to sweeter ones.  I wasn't very hungry from eating all that pho but I managed to eat the entire salad with a little help from Steve.  They have plenty of food for the meat eaters too.  Steve ordered a flatbread with short rib, but mistakenly received an order of breakfast flatbread.  He enjoyed the flatbread covered with egg, potatoes, herbs, and caramelized onions.  I am putting Sneaky Pickle at the top of my list for places to re-visit.
We left for the NOLA Shirt of the Month Club shop on Magazine Street with plans to walk part of the way back to our hotel.  The walk was so pleasant on this sunny, but not too hot day, we kept walking and walking.  Magazine Street, the part miles away from the center of NOLA anyway, is another world.  Old buildings have become every type of restaurant and shop.  Locals and their families, dogs, and a few tourists were enjoying the weather and occupying every outdoor patio seat we could see.  We stopped briefly at Sucre so Steve could eat a macaron.  Previously I would I bought a box to take home, but I don't eat them anymore.  As I was waiting for Steve I noticed a big case of gelato.  I asked if there were any vegan options and was pleasantly surprised to learn there were three flavors.  I ordered the coconut basil and didn't regret it.  I wasn't even jealous of Steve's bright macarons.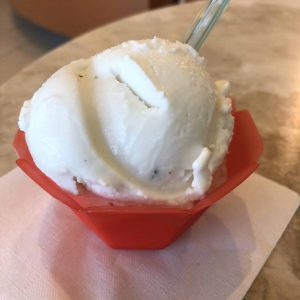 Dinner at Seed
We heard good things about Seed.  A short Uber ride over to the spot at 1330 Prytania Street and we were seating quickly.  Seed is described as a chic, modern vegan bistro with a diverse menu and they have wine and cocktails!  I saw several things I wanted to try, such as the Southern Fried Nuggets and the Sweet Corn Polenta, however I ended up ordering the Eggplant Poboy, fried eggplant, roasted red peppers, onions, lettuce, and garlic aioli.  Steve ordered the BBQ Sandwich with house made seitan, BBQ sauce and slaw on wheat bread.  We ordered some chips and dips to much on while waiting for our entrees.  We enjoyed the blue corn chips with accompanying salsa, guacamole, and "cheese" sauce.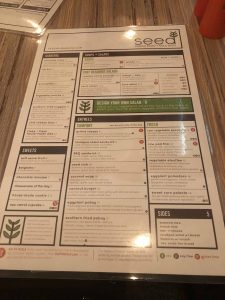 My first Eggplant Poboy was cold.  I asked the server if it was supposed to be served cold, but she assured me it was not.  She brought me a new one, piping hot.  It was filled with mandolin thin pieces of eggplant, which I think would have been much better if they were plumper.  It's still great that a plant-based poboy exists in New Orleans.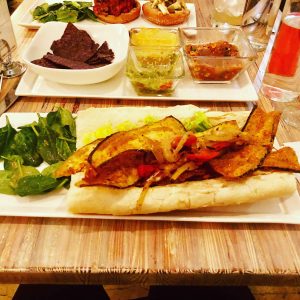 Steve's BBQ sandwich, although pretty small, was just the type of plant-based food he orders when we go to Spiral Diner in Fort Worth.  Seed's BBQ sandwich is on the small side, so I'd order a couple more sides if you're really hungry.  The house made seitan and sauce were really tasty and didn't have the fake meat texture I despise.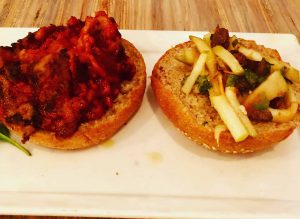 I appreciate the fact the Seed exists in New Orleans.  I'd be willing to return on our next visit.
Day 4
Pulp and Grind
Steve ran out to bring up chai tea and muffins while I worked on my blog.  This mornings muffins were Pistachio and Almond and Chocolate Chip Walnut.  Both amazing.  If I lived in NOLA I would get so fat eating these muffins!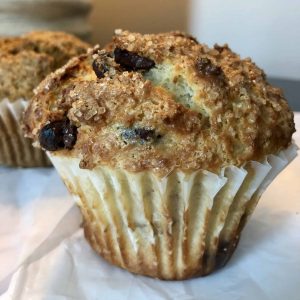 Jazz Brunch at Commander's Palace
Social Media makes the world a smaller place.  I've been following @humidfoodie on IG for a while because she lives in New Orleans and posts great food pics.  I mentioned we were coming to NOLA and we ended up making plans to meet for brunch today.  Since this is post is about plant-based dining I will not list all the things I ended up eating that were not plant-based, but I will say that if you're going to have a splurge meal, this is the place to go.  Everything we had was outstanding.  There are several menu items that could be made plant-based with some tweaks, such as the Strawberry Salad, and I've heard they will make the gnocchi vegan or a vegetable plate with advance notice, but I haven't verified this.  If you're curious about what we ate,  go to my Instagram @juliadunaway and @humidfoodie to see photos.  Meeting @humidfoodie and her husband was the highlight of the day, along with the rendition of St. James Infirmary by the jazz band.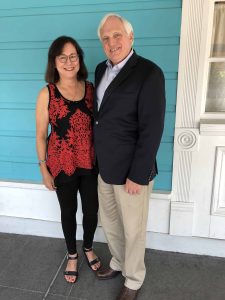 Heading back to Texas
We had breakfast at the Omni before leaving for the airport.  Normally I avoid the high priced hotel cafe breakfasts, usually heavy on egg and meat dishes, but the hotel gave us a $40 gift card due to some issues we had with drunk guests pounding on our door at 2 am and no one answering the phone at the front desk.  Long story.
I ordered their steel cut oatmeal and toast with peanut butter. They had almond milk, which is a bit unusual.  My oatmeal was way overcooked and mushy, but it was edible.  I certainly wouldn't eat here for the food, but we had to get to the airport and it was convenient.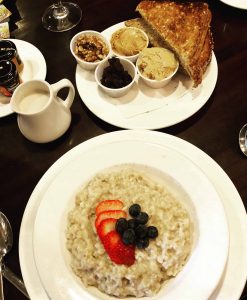 We are coming back in August for the International Food Bloggers Conference IFBC 2018 and I already have a list of plant-based restaurants/dishes we didn't get to try.  First on my list is the Sneaky Pickle followed by Shaya.  It would have been easy to stay 100% plant-based in New Orleans with all the fantastic new places, dishes available at regular restaurants, and places like Breads on Oak and Pulp & Grind, where breakfast pastries can be purchased for the entire stay.  I am so impressed that New Orleans, a city full of rich, fatty, indulgent food, has embraced the plant-based trend.