I'm visiting Savannah with my husband, Steve, who is here on business.  This is another opportunity for me to check out the plant-based options, however limited they might be.  My google search of vegan savannah was quite short, only a handful of places, and only one that is totally plant-based.  A couple have already closed permanently.  In the city of Lady and Sons, the Pink House, and numerous seafood restaurants, the plant-based movement has been slow to catch on.  I am determined, however, to eat well and stick with my Blue Zones lifestyle.
Day 1
Elizabeth on 37Th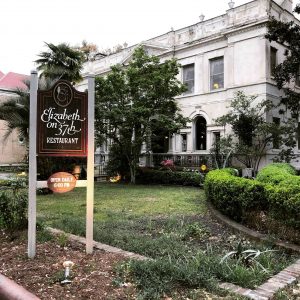 Arrived in the afternoon and checked into the Desoto Hotel, located on the corner of Bull and Liberty Streets, in the heart of old Savannah, and a quick walk to all the picturesque squares.  Evening reservations for Elizabeth on 37th, open since 1981 in a 1900's southern mansion, with a southern coastal menu.  Think elegant and seasonal.  We had a meal here on our last trip to Savannah in October 2017 and it was the best meal of that trip.  We were seated at a table for two by the owner, a very friendly a knowledgeable man, who explained all the special menu items in great detail.  When he caught on that I wanted my meal to be plant-based he was very helpful and made sure all the dairy was removed from anything I ordered.  We had drinks, a blood orange martini for Steve, and a glass of Paso Robles Eberly Cabernet.  My appetizer of Brussels Sprouts with squash and toasted almonds was quite enjoyable.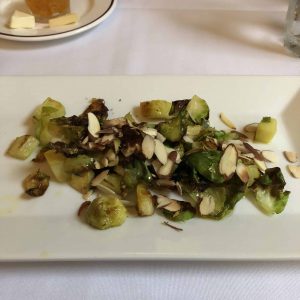 My husband raved over his parmesan basket filled with seafood. Salads were delivered, a mixture of very fresh greens with beets.  I ordered the wild mushroom and vegetable terrine with roasted potatoes and broccolini for the entrée.
On my last visit I had a plate which included a black eyed pea patty, wild mushrooms and vegetables, which I will admit I  loved  The terrine, a meatloaf-like dish, was good, but I'm not crazy about veggie loaf dishes, so I can say it was well-prepared and I enjoyed it, but I didn't love it.  My husband enjoyed his flounder special.  For dessert we had the sorbet, an intensely flavored strawberry sorbet with fresh strawberries and pineapples.  There were two very boisterous parties seated near us, one table of eight with shouting men and a table of three with screeching women.  The quiet, dignified, romantic atmosphere we enjoyed in October was not to be found.  Still, I would go back anytime we're in Savannah.  These old restaurants are disappearing.
Day 2
Fox & Fig Plant Based Cafe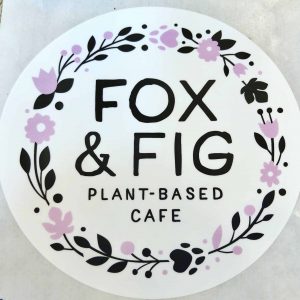 On my own today while Steve is off on his business meetings.  I set out early to have breakfast at the Fox & Fig Plant-Based Café, just a few blocks from our hotel.  The café was empty when I arrived.  It's such a bright, clean, and nicely decorated space with so much light.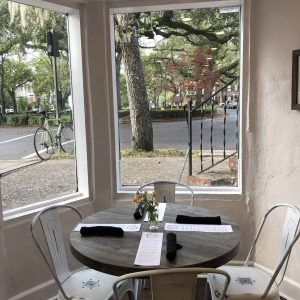 Staff is welcoming and friendly.  This is one of only a couple plant-based restaurants in Savannah and it's been open since February 2018. The menu is packed with coffee, tea, shakes, and bottled drinks as well as twelve "plant food" dishes ranging from breakfast/brunch items such as French toast or breakfast hash to a plant-food plank (like a cheese board with plant-cheese), and a beyond burger called the Fox Burger. Everything on the menu sounds amazing and I wish I could try it all.  To add to the dilemma, there is a huge pastry case filled with plant-based pastries, cookies, cinnamon rolls, truffles, and brownies.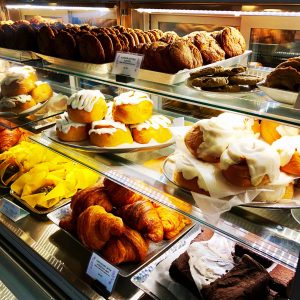 I started with Macadamia Masala Chai Latte.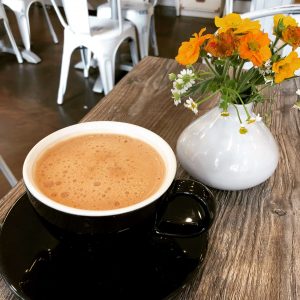 I've never had macadamia nut milk-based latte but I loved it.  My Seared Southern Seitan with French Toast with Cholula-Maple syrup was delivered promptly.  Sorry to say, I had to send it back because the seitan was not very hot.  The second plate was outstanding, with piping hot, crispy chickpea seitan, the Auspicious Baking co. bread French toast, with banana batter and the spicy maple syrup made everything pop.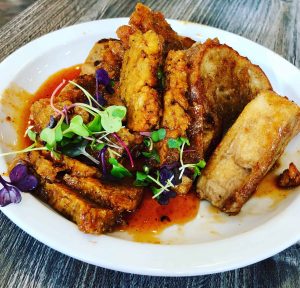 I left with a t-shirt "Plant Food and Coffee", a brownie for Steve and a couple almond butter cookies for me.  I will be back tomorrow for sure!  And probably again on Thursday because I love the Fox & Fig!!
Brighter Day Deli
Since I didn't have any fresh fruit this morning I decided to take a walk to the Bright Day Deli for a smoothie.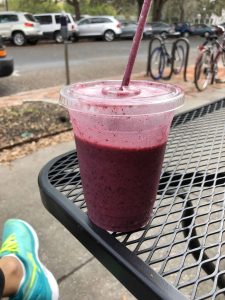 This market/deli is full of healthy food and also has a deli in the back of the store.  Their case has daily selections of salads and soups, plant-based entrees such as buffalo tofu, chickpea tuna, and pinto bean dip.  Being so full from the Fox and Fig, I ordered only the smoothie, a bright red concoction of almond milk, fresh strawberries, blueberries and banana.  Sitting outside enjoying the smoothie, looking at the entrance to miles of beautiful squares, was so peaceful.
Sentient Bean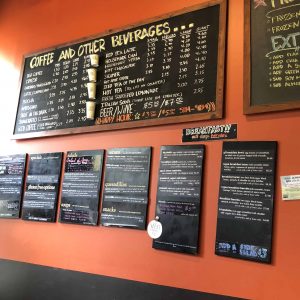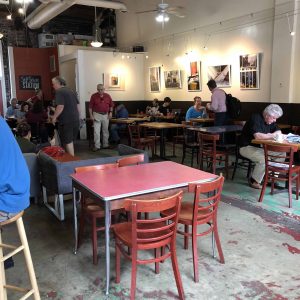 Thinking ahead to lunch, although I didn't know how I was going to eat another bite, I stopped into the Sentient Bean. I went there on my last trip to Savannah and had pretty decent breakfast tacos.  I am thrilled that it exists because there are numerous plant-based choices, but it lacks the atmosphere of the Fox  & Fig. It's a bit dark, a bit dingy, and just needs a fresh look.  I get the feeling it's not all that clean, but maybe that's because it's too dark in there.  Last time I was in Savannah, Sentient Bean was the best option for plant-based food.  I found that to be depressing at the time.  Now that Fox & Fig is open, I am so happy!  I ordered a barbeque tofu wrap to go.  Later, eating the wrap in my hotel room, I had to admit it was damn good!  So Sentient Bean will stay on my list, but I still wish they'd freshen it up some.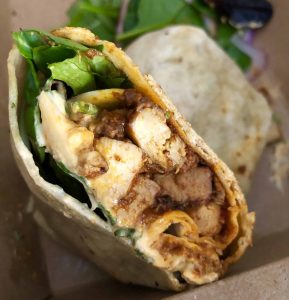 Chocolat by Adam Turoni
Everyone needs a little chocolate, especially dark chocolate and the most beautifully displayed chocolate is right here in Savannah.  Spicy, complex, quirky, and creative and they taste as good as they look.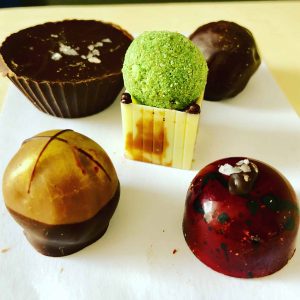 Husk Savannah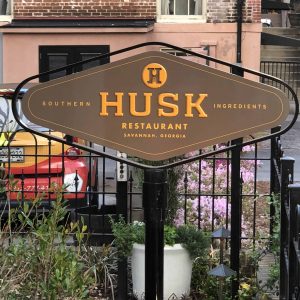 Husk in Charleston starts the meal with a basket of benne seed biscuits, but Husk in Savannah does not.  I was disappointed, because even though the biscuits are probably not plant-based I had planned to eat one anyway.  The dinner rolls, with benne seeds and a weird lard were not tempting though.  Probably a good thing.  The only thing on the menu plant-friendly was the Southern Vegetable Plate.  It contained beets, grilled turnips, Sunchokes and cabbage, and rice/black-eyed pea hopping John.  It was not a winning dish in so many ways.  Undercooked and bitter turnips, bland beets, mushy and cold hopping John, but the only decent dish was probably loaded with dairy–a sunchoke creamy cabbage dish.  Even my husband's fish dish was bland and plain.  His starter, a shrimp and hominy dish, was the only great dish of the evening.  We also had to wait about 40 minutes before our entrees arrived, and this was on a Tuesday night.  We are not planning a return visit to Husk next time we're in Savannah.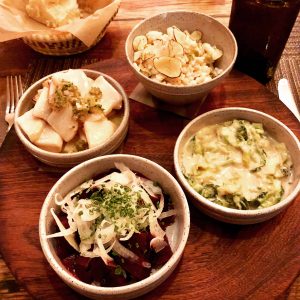 Day 3
Fox & Fig
My second breakfast here in two days.  I ordered the Breakfast Hash with Cashew Hollandaise, sweet potatoes, russet potatoes, cauliflower, asparagus, shiitake mushroom bacon, bell pepper, caramelized onion with impossible sausage and corn tortillas.  It arrived looking beautiful, but full of raw and under-cooked potatoes.  I received a second plate and this time it was hot and cooked much more (however still had a few undercooked potatoes in there).  I didn't pay for my meal, received a free croissant and apologies.  My Matcha latte was excellent and I still love this place.  In fact, I will go back again tomorrow with my husband because there is no where else around here for me to get a plant-based breakfast.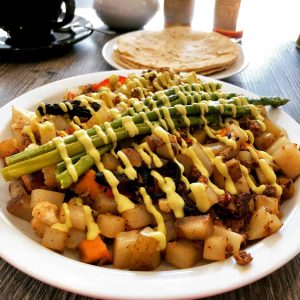 Henny Penny
In an effort to walk off all the food I've been eating, I headed down Bull Street to stop at some other plant-friendly restaurants.  First on the list was Henny Penny, where I heard they had vegan donuts.  Sure enough, several selections were in the cases.  I also spotted some plant-based power balls, oatmeal and chocolate chips with peanut butter.  Later, I tried one and it was fabulous!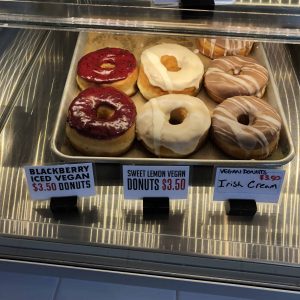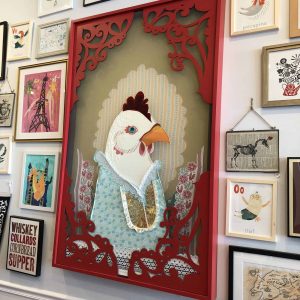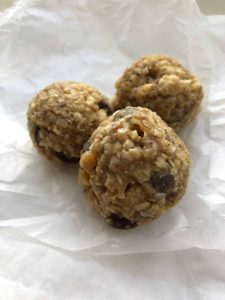 Natural Selections Cafe
This is the other 100% plant-based restaurant in Savannah. It's been around almost a year.  The menu is quite extensive, with breakfast wraps, cereals, omelettes, lunch items including soups, salads, sandwiches and side items.  I ordered a smoothie called Green Pastures with apple juice, spinach, mango and pineapple.  I wish I had known it contained apple juice because I would have substituted it with plant-based milk.  It was a little sweet for my taste.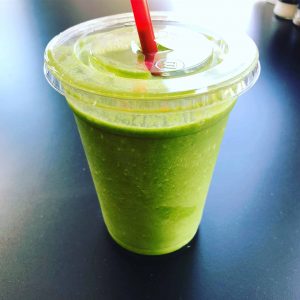 I can see myself coming back next time I'm in Savannah and trying some of the food items on the menu.  It was a nice, bright, welcoming spot with friendly staff.
Foxy Loxy Cafe
Another business owned by the Fox & Fig group, way down Bull Street.  I spotted a few plant-based baked goods and didn't have much time to explore the menu, however I didn't see much at a glance.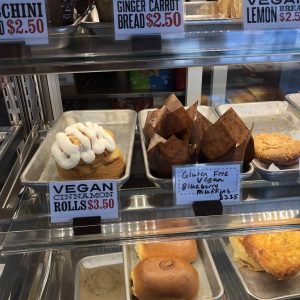 Co
I spotted a vegan menu on their website when looking for lunch spots, so since we were near the river front area we stopped in.  There were quite a few choices and I was hoping for a hot bowl of noodles with the cold, windy weather we had been experiencing.  Unfortunately, there were no hot soups on the vegan menu.  I ordered the Com Chien, tofu fried rice with edamame, carrots and scallions.  It looked appetizing but lacked any flavor other than oil.  I doused a lot of soy sauce and sriracha on it and it still tasted like oil.  Not impressed and will not go back.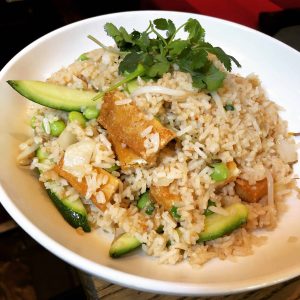 The Grey
Our last dinner in Savannah at the highly praised restaurant, The Grey.  The Grey is an old Greyhound bus terminal built in the 30's.  Much of the original building was preserved and still has the look of an authentic bus terminal, including the floors, doorways, ceiling and more.  The menu is varied and quirky with many small plate selections, a few plant-friendly ones.  The drink and wine menu is creative as well.  I started with a Metro Liner, a bright red drink made with rum, cointreau, lime and sorrel.  It was sweet, bitter, bright and strong all at the same time.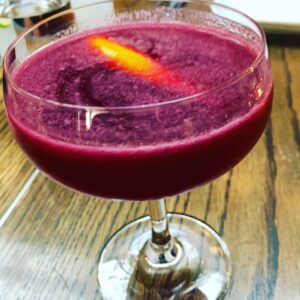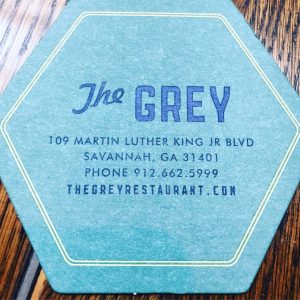 My husband, who ordered a plain old margarita, tasted my drink and ordered one for himself.  We received a small bowl of fried chickpeas, tasting of cumin and cinnamon.  I ordered the Benne Seed wafers with chutney, another great combination with my Metro Liner.  Steve's clam toast was a huge burst of complex flavor.  We shared Rafe's young lettuces with sherry vinaigrette, a sharp and tangy dressing with truly young and fresh tasting greens.  My Seasonal Vegetable Plate, hold the egg, was a good example of how a chef's selection of vegetables should be.  It was not an afterthought of lukewarm vegetables thrown on a plate.  Instead, it was a carefully composed dish of several outstanding dishes including red pea fritters with tiny diced peppers, grilled spring onions, grilled asparagus, shaved white beets, ugali (African cornmeal patty) with green goddess sauce and spicy grilled escarole.  My husband's country pasta was perfectly cooked, al dente pasta with a complex sauce.  I wanted to try so many other things on the menu, such as the smashed potatoes, hold the sour cream, or turnip cakes, or rice and peas.  The flavors, textures and combinations were truly unique and had us wanting more.  We will be back here in the fall.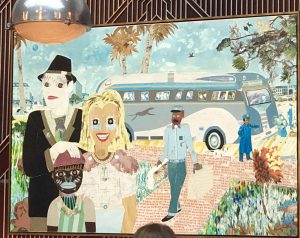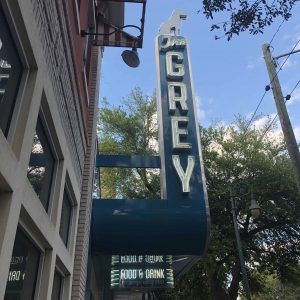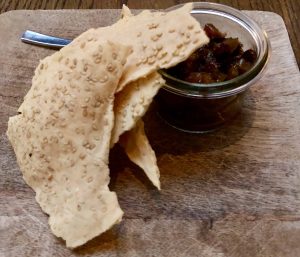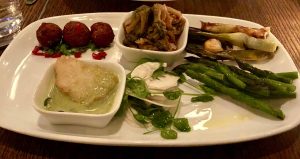 Day 4
Fox and Fig
Can you tell I like this restaurant?  I even got my not plant-based husband to come with me today, our final day in Savannah.  We wanted a lighter breakfast since we plan a bigger lunch before we head to the airport. I wanted a big cup of strong tea and the Savannah Breakfast Blend with organic English Breakfast Tea with lavender blossoms and sunflower petals hit the spot.  Steve had the Macadamia Masala Chai Latte and loved it.  To keep things light I ordered the Tostadas Verde, toasted Auspicious Baking Co. Country White loaf, smashed avocado, salsa verde, lime juice, chia seed, hemp seed, pepitas, pickled red onion and rainbow microgreens.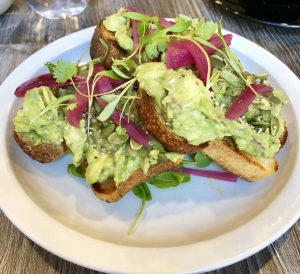 Steve's cinnamon roll was huge and satisfying.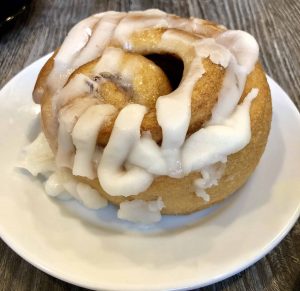 I will really miss the Fox and Fig Plant-Based Cafe.  The gourmet touches to the fresh food with complex flavors, beautiful and serene setting, wonderful drinks, and friendly service made me feel right at home.  I truly wish more cafes and restaurants dedicated to plant-based food would open up around America, especially near Fort Worth, Texas!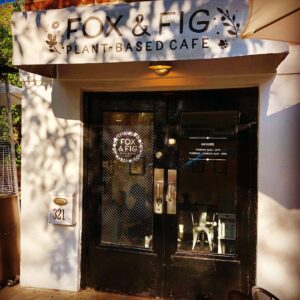 Green Truck Neighborhood Pub
Our last stop as we leave Savannah, the Green Truck Neighborhood Pub was highly rated for having "the best veggie burger".  They also have award winning regular burgers, a fact Steve found enticing.  We were told there was a 20-25 minute wait for a table, however some bar seats opened up as we waited.  I saw that in addition to the veggie burger (vegan) there was vegan chili and that any burger could be made with the veggie burger patty.  The burger arrived and was crispy around the edges, hot on the inside, and complimented by the stack of vegetables served with it.  The veggie chili on top on the burger could have been omitted for my taste.  I enjoyed it and would visit again on our next trip and try a salad or maybe even the Reuben with the veggie burger, hold the cheese.  Steve was quite impressed with his classic burger.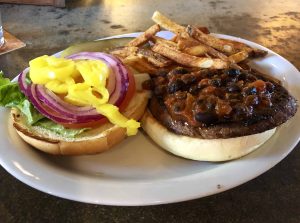 I managed to eat at 8 plant-based or plant-friendly establishments in Savannah.  A couple others, such as Mellow Mushroom and Kayak Kafe were not included.  I've been to Mellow Mushroom in Fort Worth and I know they offer a whole wheat crust with vegan cheese.  On our last trip in the fall of 2017 we had lunch at Kayak Kafe and I was served one of the worst veggie burgers I've ever eaten–super dense, cold, bland and inedible.  Maybe by our next trip there will be more choices, but even with the places I visited on this trip I had plenty of options and did not feel deprived in any way.