Plant Based Green Bean Casserole with Crispy Onion Topping
Embed recipe to your website, blog, or article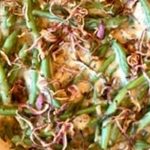 Description
We all know the old green bean casserole served at holiday dinners. You know, the one with the canned green beans, canned soup, cheese, and canned onion rings? Well, my version is full of fresh green beans, a light vegetable broth based sauce and topped with not-fried onions. People attending my class said it was better than the one they grew up eating!
First of all, check if you have all the necessary ingredients for this recipe. Pay attention to the quantities!
Next, follow the steps to finalize your dish and finally be able to enjoy it!
This recipe has no photos or videos attached!