Plant-Based Hippie Banana Bread (Oil and Dairy Free)
Embed recipe to your website, blog, or article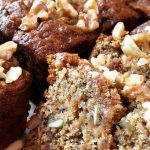 Description
This banana bread exceeds all expectations. It's moist, sweet from the bananas, nutty, and decadent. Make it for a special treat or gift. I hope you enjoy it as much as I do!
First of all, check if you have all the necessary ingredients for this recipe. Pay attention to the quantities!
Next, follow the steps to finalize your dish and finally be able to enjoy it!