Plant-Based New Orleans Red Beans and Brown Rice
Embed recipe to your website, blog, or article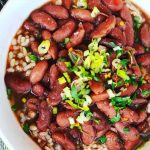 Description
These creamy, luscious red beans, paired with nutty brown rice, are as good as it gets.
First of all, check if you have all the necessary ingredients for this recipe. Pay attention to the quantities!
Next, follow the steps to finalize your dish and finally be able to enjoy it!