Smoked Tempeh with Barbeque Sauce or Asian Marinade
Embed recipe to your website, blog, or article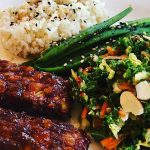 Description
Tempeh is a solid block of fermented soy beans with a "meaty" texture and neutral flavor. It absorbs marinades and spices and can be grilled or seared.
First of all, check if you have all the necessary ingredients for this recipe. Pay attention to the quantities!
Next, follow the steps to finalize your dish and finally be able to enjoy it!