Stuffed Acorn Squash with Old Fashioned Dressing
Embed recipe to your website, blog, or article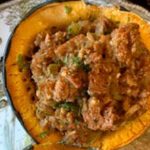 Description
Besides looking so festive, this stuffed acorn squash is pleasing in so many ways. From the crispy edged bread dressing with plenty of sage, to the creamy acorn squash, you'll find yourself enjoying every bite.
First of all, check if you have all the necessary ingredients for this recipe. Pay attention to the quantities!
Next, follow the steps to finalize your dish and finally be able to enjoy it!